Ingrid Watkins, Principal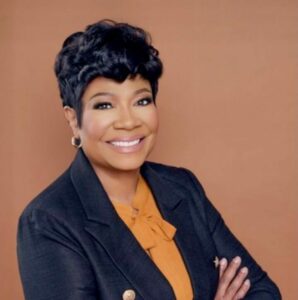 IW Consulting Group's Principal, Ingrid Watkins, is a passionate and accomplished leader in supplier diversity and business development. During her 20-year career at The Coca-Cola Company, she worked diligently advocating for the inclusion and utilization of diverse suppliers in procurement opportunities. She began her career at the Global Brand in 1996 and joined Supplier Diversity in 2002 as Communications Manager where she was responsible for creating internal and external communications and change management strategies, and training programs to promote and support program initiatives.
As Strategic Sourcing Manager, she was successful in connecting value added diverse suppliers to procurement opportunities, growing the number of diverse suppliers in the supply chain and increasing spend. Her efforts contributed to the Company exceeding annual targets for twelve consecutive years. After several years in that role, she was promoted to Sr. Manager of Global Supplier Diversity, where she continued to engage internal and external stakeholders, co-authored corporate policy and implemented processes and procedures to improve the program's integration with procurement processes. She is most proud of her supplier development work where she developed and managed a best in class supplier development program that resulted in contract wins for some supplier participants. Ingrid is a well- respected professional and is regarded as an esteemed leader in corporate supplier diversity.
Prior to joining the Company, Ingrid worked as a Journalist for several local and national media organizations, and as program administrator for The Corporation for Public Broadcasting, a national funding organization for public television and radio stations in Washington, D.C.
Ingrid is actively involved in various community and civic organizations; and have served on national supplier diversity boards, committees, and councils (too many to list). She is currently a member of National Black MBA Association and Women MBA Association.
Ingrid earned an M.B.A. from Regis University Graduate School of Business in Denver, CO., and a B.A. in Journalism/Communications from the University of South Carolina.
In 2017, Ingrid decided to put her passions and expertise to work for a broader business community and launched IW Consulting Group, providing supplier diversity program solutions to corporate clients, and business development consulting to scalable emerging businesses. IW Consulting supplier diversity program solutions team will build and manage programs from ideation to implementation or enhance existing programs with a customized plan. Business Development consulting includes customized capability assessments, coaching in scaling up strategies, marketing, leadership development and operational efficiency.
World Consulting Group (IWCG) is a leading Atlanta, Georgia-based consulting firm that focuses on developing individualized strategies to increase diversity, equity, and inclusion (DEI) in the supply chain and workforce..